The patented ZIMA - piston system is our main product. Due to the multi-year development and test cycles, we have a great expertise and operate wide range of customer requirements. An example of this is our partnership with the University in Esslingen, where our piston system is a central component in a highly innovative fire extinguishing system for a microlight project.
In the aerosol industry, our pistons are used as high-density separation between contents and propellant. Due to the high sealing capabilities also very sensitive products can be filled in piston cans (aerosol cans, aerosol / spray cans), which was not previously possible in this way.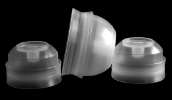 Our piston system can be made depending on customer needs and requirements in different plastic formulations. However, a PE or PP plastic is adequate for many applications.
Since Zima Systems GmbH is an independent company, we are able to meet diverse customer requirements together with the excellent suppliers from the desired sectors.
We work to, for example, with known can producers, filling companies and valve and actuator producers. Our project portfolio is rounded off by development projects with engineering companies for the aerosol industry.